Printers
We supply a range of quality printers that are fully compliant to the BS5609 standard. Please send us an enquiry for any of the models below to receive a highly competitive quote.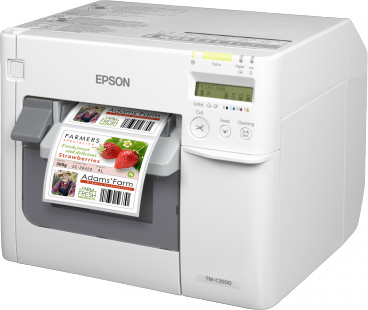 Epson C3500 Series
Significant upgrade in the Epson line of color label printers; 2.4X faster, 4 colors, higher print quality and lower ink costs. With faster speeds, better print quality and 4 colors, the new TM-C3500 represents a major improvement in color label printing. The TM-C3500 comes with both USB and Ethernet connectivity as well as a built-in cutter. This printer is perfect for adding color text and images to basic white labels. You'll not find a less expensive, more productive color label printer.
Ideal for high-mix, low-volume applications
Compact, robust design for commercial use
High print speed of up to 4 inches/second
High-quality four-color inkjet printing
Individual ink cartridges for efficient use of ink
Supports all major label applications
Easily adjusts to handle 1.2" to 4.4' widths
Rear-feed capability for fanfold and large rolls
Meets BS5609 certification for GHS labels
USB and Ethernet interfaces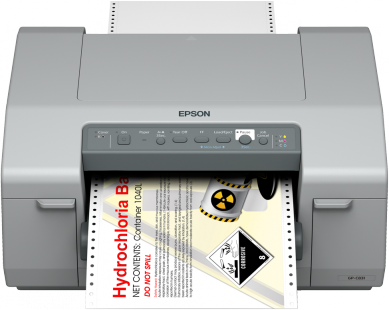 Epson C831
Epson's ColorWorks C831 industrial-strength label printer with durable pin-fed media handling.
If you need color labels to meet the GHS requirements, the GP-C831 prints on-demand color drum labels up to 8" wide and 22" long. Combining the durable Epson Durabrite ink with Kimdura poly media, the labels produced by the GP-C831 meet the British Marine Standard, BS5609 requirements; perfect for GHS. With the pin-fed tractor feed, the GP-C831 has the most durable media feed system available.
* Pigment ink, individual CMYK cartridges
* Print speed (max.)2 Draft mode 16.5 pages per minute Normal mode 13.6 pages per minute Super fine mode 7.0 pages per minute
* Print resolution 720 dpi x 720 dpi maximum
* Paper feeding method Push tractor feed (rear in/front out) Media type Continuous paper (plain paper, labels)
* Media dimensions Width 3.0-9.5 inches Length 0.5-22.0 inches Printable area Maximum width 8.0 inches Left margin 0.51 inches Right margin 0.51 inches Top margin 0.08 inches Bottom margin 0.08 inches Interfaces
* Hi-Speed USB, Bi-directional parallel, Ethernet 10/100 BASE-T
Colorworks C7500 Series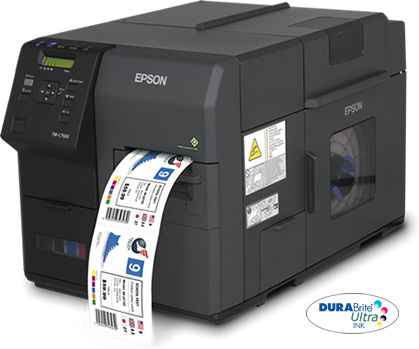 Reliable performance — rugged design means minimal maintenance and a low overall cost of ownership; ideal for busy, on-demand environments
Powerful productivity — Just in Time Color printing for high-volume labeling applications
High-speed, on-demand, color printing — speed through multiple full-color labels with variable data up to 11.8" per second
Durable labels — BS-5609 certification means labels won't smudge, smear or fade
Low cost of labeling — up to 50 percent lower printing cost than with laser and thermal transfer printers for high-durability color labels
Seamless integration — built-in ESC/Label language means you can use the printer with your existing workflow, and even add color with simple programming extensions
Astounding image quality — powered by PrecisionCoreTM inkjet technology from Epson; delivers precise barcodes and ultra sharp text
Highly efficient — high-yield ink cartridges mean fewer user interventions and less waste than most thermal transfer printers; easy to change, so there's less downtime
Other Consumables
We offer consumables for all of the above printers and for the Epson TM3400 printer that has been replaced with the C3500 series printer.